Hello and welcome to another edition of the year-end "best of" blogs, that I regularly submit to Jim Goldstein's photo blog project. Each year I look forward to see the submitted work and finding a way how to expand and improve my photography. It also helps me to set goals for the year ahead. Last year I decided to change the style of the blog a bit. Selecting purely landscape work has become increasingly difficult for me, because I don't have nearly enough time for my personal projects as I used to. So instead of presenting three or four photos that could be labeled as "landscapes", I decided to go month-by month, describe what I had done and pick one or two most interesting photos.
This year I slowly began filling my newly created Travel portfolio, focusing on interesting places in various countries. It is a slow, lenghty process, but I'm quite happy with the photos I produced this year and hopefully 2017 will be just as good, if not better.
However, 2016 wasn't just about positive experiences. During the year, I had to deal with several copyright infringements and unauthorised usage of my photos from journalists and nation-wide media. I chose to deal with the infringers myself and each time I was shocked by their excuses. Some cases took days to sort out, some took three or four months. In the end, I got my fair share from each of the case, so I'm happy that my time and energy was put to a good use.
In January I started out at a local biathlon competition called Viessmann Cup that took place in our national Biathlon center in Osrblie. This is very much a local competition, where old and young, men and women, amateurs and professionals compete together in their respective categories. However, the photo of the month comes from the Titanic: First Voyage, Real Artifacts, Real fates Exhibition. Compared to some other grand exhibitions I saw and photographed, the artifacts were real deals extracted from the wreckage of the most famous ship in human history. I was later complimented for the photos both by some visitors as well as the organizing company.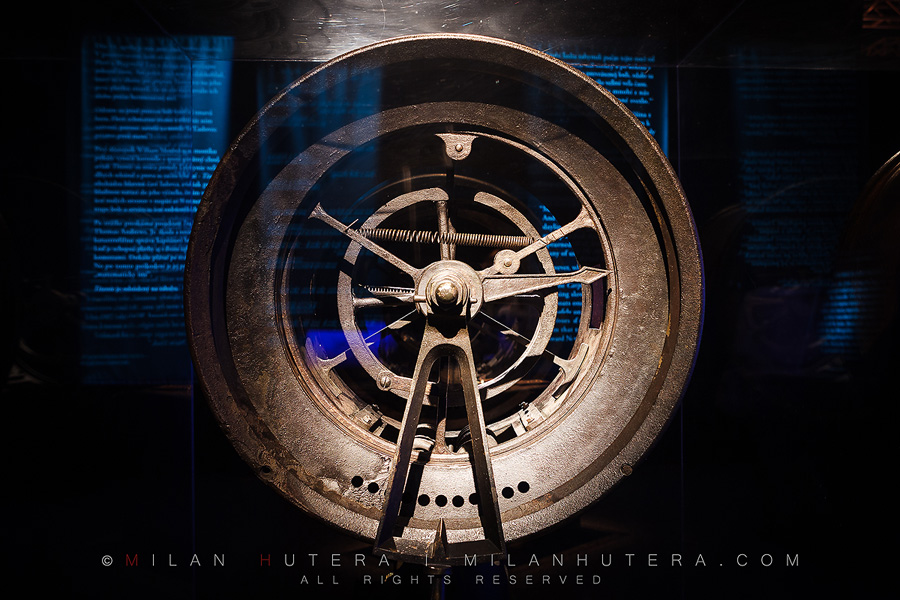 In February I started out by shooting the Fed Cup 2016 World Group 2 tie between Slovakia and Australia. Team Australia, led by the feared Samantha Stosur, was a tough oponent for our girls. The matches were close. In the end Australia won the tie 3:2.
A week later I was shooting Biathlon again. This time it was the 7th edition of 2015/2016 IBU Cup in Osrblie. While IBU Cup is only a "second league" compared to Biathlon World Cup, some top tier names appeared on the start lists. The Norwegian team was incredibly strong. Tiril Eckhoff and Fanny Horn-Birkeland, both World Cup stars, made the appearance in the heart of Slovakia. The overall men's winner was Matvey Eliseev, who achieved some very respectable results in World Cup in the following races.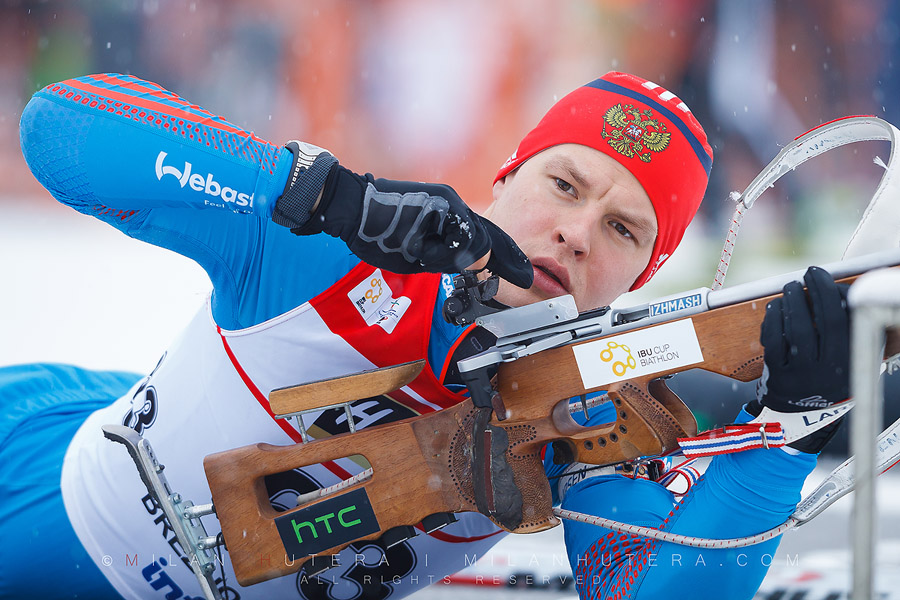 In April our Fed Cup Team had to face Team Canada for the battle to stay in World Group 2. Dominika Cibulkova was in a top form and Team Canada was short of their elite player Genie Bouchard. Those were two deciding factors of the tie and Team Slovakia will remain in the World Group 2. Hopefully we'll make that needed push and battle for World Group 1 in the following ties. The highlight of April however, was my visit to beautiful Florence in the heart of Tuscany. I was successfully able to merge leisure time with my friends and photography during mornings and evenings. I also managed to write a successful blog about my Florence adventures, however, I didn't find the time to translate it to English to this day. I'll try to do it as soon as possible in 2017.
I hope to return to Tuscany very soon to do some further exploring of Florence and visiting other Tuscan towns as well as that incredible countryside. I can already think of several place in Florence I haven't had the chance to explore during my first visit. You can visit a gallery dedicated to my Florence visit by clicking on either Santa Maria del Fiore photos.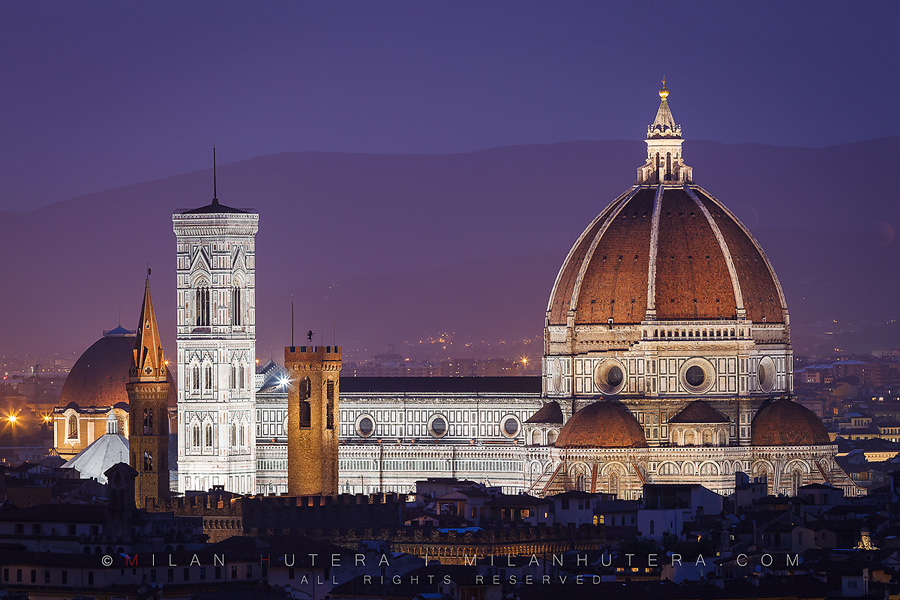 In the beginning of May I had a chance to photograph the superb Hans Zimmer Live in Bratislava. The photography experience, however, wasn't anything special. The famous "three song rule" (or one song rule in this case) was in effect and the lighting was (deliberately, I think) the worst of the entire show. In mid-May, I shot some action on the Empire Slovak Open in Trnava – the biggest Women's Tennis Tournament in Slovakia and at the end of May I went to see the 2016 edition of Rotenstein, a nice Medieval/Renaissance festival held at the castle of Cerveny Kamen in the heart of Small Carpathians.
However, the main highlight of May was my visit to Prague for a short business trip. I also found some time to shoot and this marked my second visit to Prague in as many years, where I had the chance to explore the city. To be honest, I feel the internet is overloaded with the notoriously famous photos in Prague and it's incredibly easy to follow the steps of thousand other photographers and getting the same photos. So before the trip I was looking around for some different spots I could try to explore. My main inspiration for this trip was the gallery of Ana Pogacar, a talented Slovenian photographer. Her photo of the Charles bridge and its surroundings from Petriny Tower inspired me to walk all the way from our hotel in Old Town to see the Prague from above. In the end I managed to get nearly identical photo – with my composition and lighting being very similar to Ana's. The weather was a bit hazy so the visibility wasn't as great in some directions. Prague is often labeled as the City of a Hundred Spires. I counted no less than twenty in this frame so I'm thinking whoever came up with the name under estimated the count a little.
When I finished shooting on the top of Petriny Tower, I made my way to Prague Castle. The courtyard was filled with people, despite the late hours. Suddenly a young man approached me. "Hello, I have a spare ticket for the jewels exhibition, do you want to go? It's for 8 PM entrance. We can go in in five minutes" I realized he was talking about the famous Crowning Jewels of King Charles the Fourth. I was a bit surprised and wanted to pay for the ticket, but the man insisted I should join him and his friends for free. The line was pretty long and the approach do the jewel case took about 30 minutes.
Finally I saw the jewels in all their glory. They were placed in a strangely shaped case that was covered in dust, the side glass was wavy and the jewels were harshly lit. At least that was the reality from a photographer's point of view. Nevertheless it was a wonderful experience to see them in person. These crowning jewels are on display only during special occassions. This time they were displayed to commemorate the 700th anniversary of the birth of Charles the Fourth. I want to thank the young gentleman again for the free ticket and the opportunity to see the jewels in person.
In June I started to feel a bit melancholic. In the past months I traveled quite a bit and I shot quite a bit of sports but I did very little of landscape photography. The days were getting significantly longer and they were offering quite a lot of opportunities even during work days. I was out there quite a lot, however, the weather simply wouldn't co-operate. Until one evening… It is a very simple scene of a farmland just outside the village where I live. The Sunset colors were superb and right now I can say this was one of two most beautiful Sunsets I saw in 2016.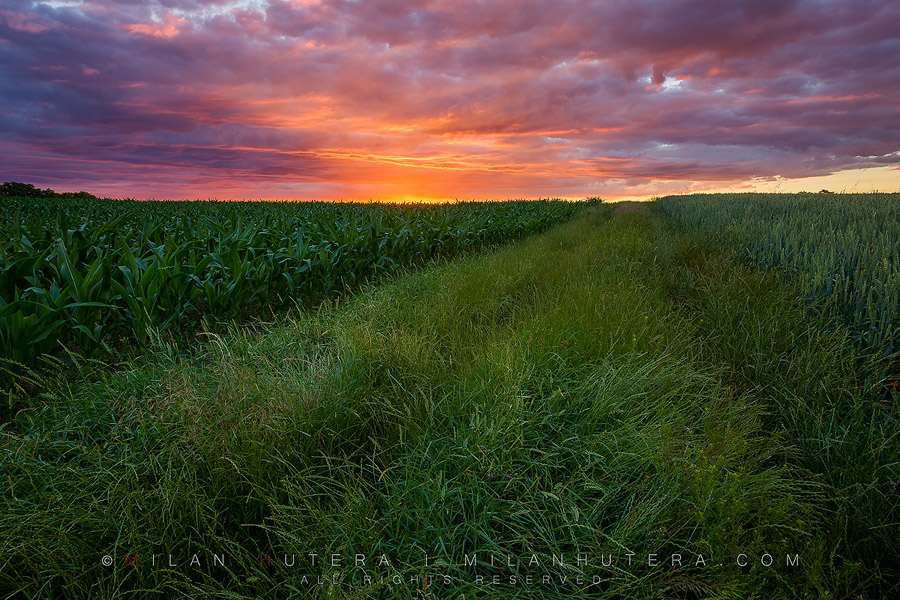 At the end of July I was in Czech Republic again for a one day shooting assignment. In the morning I drove about 350 kilometers to my destination, shot the assignment during the day and drove back home in the evening. During my way back I decided to stop in the picturesque south-eastern Moravian town of Mikulov and make a short visit to it's famous Sacred Hill. The evening Sun was beautifully illuminating the Chapel of Saint Sebastian and the nearby belltower. There were quite a few people on the hill, some of them even decided to lie in my composition and talk about life and stuff. During the processing of this six shot panoramic (even though it does not look like a panoramic photo) I decided not to clone out the couple.
I spent about half an hour on the Hill, waiting for nicer clouds. I shot several versions of the scene, however, the clouds weren't improving that much. I decided to go back to the parking lot and continue driving, because I had to cover another 150 kilometers. As I was leaving Mikulov I noticed a dramatic change. The sky filled with cloud and the setting Sun painted the sky with incredible red tones. Unfortunately I was too far away to go back and take advantage of the most beautiful sunset of 2016. The moral of the story: Always stay till the very end.
I started the August by one-day shooting at Equestrian Festival, held in the superb X-Bionic Sphere arena in Samorin. And at the end of the month, I went to Slovak International Air Fest, which I thought wasn't as good as the previous edition. The highlight of the month was my half-day visit to Banska Stiavnica. It is one of the most important historic towns of Slovakia and it is the UNESCO World Heritage Site since 1993. Even though it is not that far from my home and my aunt has a weekend house nearby, my last visit to Banska Stiavnica took place eight years ago. I still cannot figure out why it took me so long to go back, but it was great to visit the city once again. The weather was mostly cloudless, but for this rooftop panoramic, some puffy clouds appeared.
The main street of Banska Stiavnica has many mining houses. Unfortunately a large portion of them is not in a good shape. Some of them however, have been restored and are wonderful to look at. If all the houses were properly restored, the main street of Banska Stiavnica could rival most of the historic towns, including Florence. I don't think it will happen though, due to lack of funding and many "sins" of the communist regime.
In September I was back in Mikulov, as well as the nearby towns of Lednice and Valtice, for a two day trip. I tried to do as much photography as possible, but the weather was extremely hot and mostly cloudless. This is typical for the late August and early September in this region. This dawn shot of Valtice Castle, which holds the National Archive of Czech wines, was one of my favorites from the trip.
A week later I had the chance to attend the grand opening of Cosmos Discovery Exhibition in Bratislava. Unlike last year's Gateway To Space exhibition in Prague, which I attended and photographed as well, the Slovak edition had genuine parts from Saturn V rocket and Space Shuttle on display.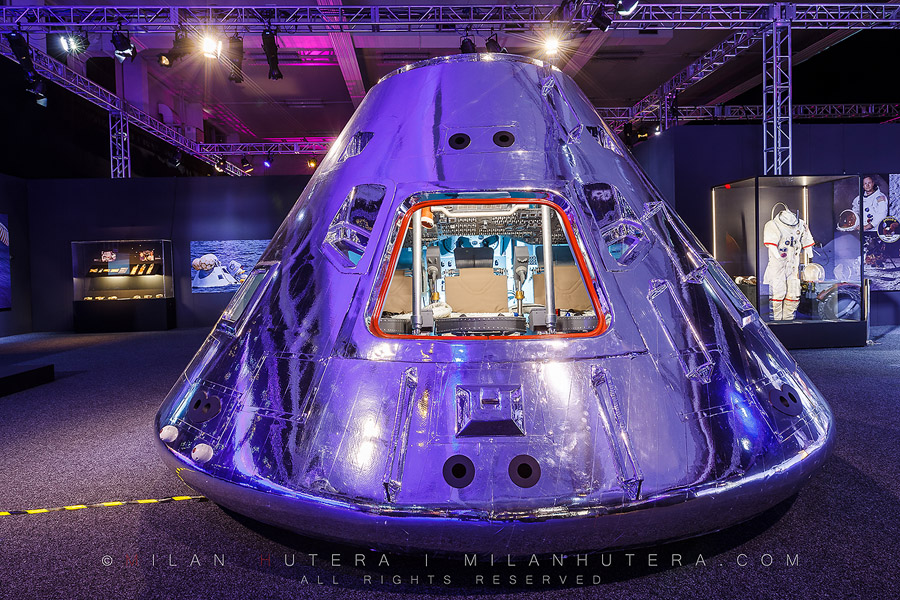 At the end of October, I was photographying the prestigious ATP 500 Erste Bank Open Tennis tournament in Vienna, Austria. Overally I have to say this was a great experience, except for the quality of lighting. In 2016 and on the event of this caliber, I'd expect the light to be as good as it gets, not "butt-ugly yellow".
In the second part of October and the first part of November, I made several trips to shoot fall colors. I really can't say why, but I had a feeling that the quality of fall colors was severely lacking this year in Slovakia. The leaves just weren't yellow enough. They kept a green hue before turning into brown or falling off. This photo from the overlook above the mining village of Spania Dolina was among the better ones I took during my trips. Although the colors in the village itself weren't as nice as I hoped.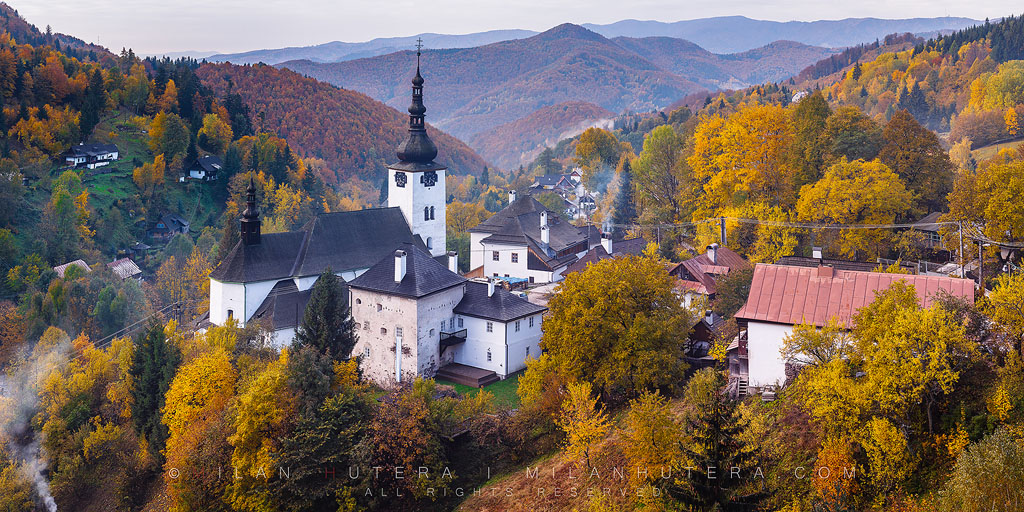 On the same day I photographed the Kraliky waterfall, located about 15 kilometers away from Spania Dolina. I was really happy with the waterflow that day and I'll probably take some waders next time to access even better angles.
Incidentally, my favorite fall photo does not contain any fall colors. On the last day of October, I made my way to Nitra castle. The long opening hours and early twilight hour were the key components in making this photo.
The highlight of December was definitely my two days at Biathlon World Cup in Nove Mesto na Morave. In recent years, biathlon became incredibly popular in Czech republic and the total attendance of this four day event was around 130 thousand spectators. Most of the races were scheduled for late afternoon/evening. The artificial lights are always a challenge. The quality and intensity varies on different parts of the track, but they also create the opportunities to capture a different kind of photos. This photo of Norwegian biathlete Tiril Eckhoff is definitely on the "artsy" side, but it's probably my favorite from the weekend.
This was only a small glimpse of my incredibly intense year of 2016. Due to some work/study related stuff in the first half of 2017, I won't be making any bold photographic plans. But each day is not only a challenge, but also an opportunity, so I hope I'll make most of it. Thanks for your time, I hope you enjoyed my Year-end blog. Feel free to leave a comment or connect with me on Instagram, Twitter, LinkedIn or the dreadful Facebook.