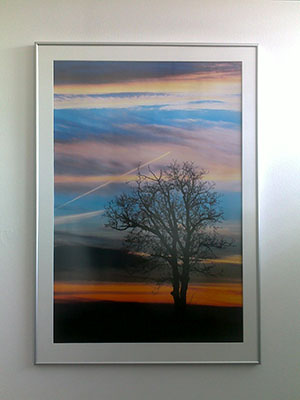 If you're interested in owning a print of a photograhp presented on this website, please contact me. I prefer individual approach to every inquiry and will do my best to meet and exceed your expectations. All prints and are made on a professional large format printer using professional papers and inks. Each print is examined by me prior to shipping to ensure the highest possible quality.
Feel free to choose the finish according to your preference and needs. From my personal experience, the best match for the glossy prints intended for framing is a matt (frosted) glass that protects the print from dust and UV light. The fine structure of glass eliminates most of the unwanted reflections and overally is more pleasing to look at. The example photo shows a 50×75 cm (20×30 inch) print of "Fly By" with thin alluminium frame, white matt board and covered with frosted glass.
The prints are shipped rolled-up in a sturdy tube to ensure the safe transportation. The shipping cost to EU is included in the price of the print. Please contact me about the shipping to other countries.
The basic price structure is listed in the boxes below. The final price of the photos will depend on the quantity of photos you'd like to acquire and your requirements.
Print prices
20×30 cm (8×12″) – 30 EUR
30×45 cm (12×18″) – 45 EUR
40×60 cm (16×24″) – 60 EUR
50×75 cm (20×30″) – 75 EUR
60×90 cm (24×36″) – 90 EUR
If you'd like to use some of my photographs in a magazine, book or other kind of publication, please contact me and we'll discuss the details. Please note that all photos presented on this website, or other websites associated with my name (such as my blog, photo sharing sites I participate in or discussion forums I'm a member of), are my personal property. Therefore they cannot be used on blogs, websites, be printed or used any other way without my advanced written permission. Photos presented on the internet are low resolution photos and are outfited with my logo and copyright notice, therefore are not suited for any usage in publications.