Welcome to another edition of "A year in pictures" blog. Recapping the year for Jim Goldstein's annual blog project has became a great tradition that I intend to keep no matter the circumstances. Once again though, I won't be following the guidelines to pick 5 or 10 best photos, but instead I will do a month-by-month recap. It is my belief this way gives a better overview of the whole year.
Last year, I wrote that 2018 was a busy year. This time I'll say the 2019 was absolutely insane year, and not in a good way. If you asked me, what I was doing for the first three months in our family business, I honestly couldn't tell you. I simply cannot recall anything else other than senseless repetitive stuff, doing and redoing things over and over again. This carried out through the rest of the year. There was very little time for anything other than work.
Last year I was also negative about the photography business – taking a turn for the worse. Being negative and cranky towards the end of the year is also a tradition of mine. I hate to say it, but I was 100% right. This year, it went straight to hell. Although the number of paid assignments I did was approaching 70 with some new and fresh ones, it was very frustrating. Everybody talks about the upcoming crisis. In my opinion, it has already hit. With the advent of social media, the proper photos are among the first that are cut. The usual excuses are "we don't need that covered", "we'll just use some from social media" and "we can only pay [insert a demeaning sum, that hardly covers the cost of transportation and cost of business, not to mention the time, talent of photographer and gear cost]".
I made plans for January to shoot winter scenes in Banska Stiavnica. I have discovered a reliable webcam overlooking the city, I saw beautiful scenes made of fresh snow on it. But due to extremely demanding schedule in our office, I wasn't able to make the trip. I can only hope I will be able to make it in the first months of 2020. Unfortunately, that is the dark side of business. If you have an activity that pays and you're on a deadline and the other activity (photography) doesn't pay, then it's clear which one has the priority.
In February, I was shooting 2019 Davis Cup Qualifiers between Slovakia and Canada. This was the first time teams played under the new Davis Cup format (qualifiers in February and the final tournament of 18 nations in November). The Canadians arrived with young stars Denis Shapovalov and Felix Auger-Aliassime. The matches were close with Canada claiming the spot in the finals. One of my favorite shots seems like a trivial one. If you know, what you're doing and take your time, it's easy to get the nice game play photo with the ball right on the racquet. But to get a line judge's head inside the racquet, carefully observing the ball – that requires one of those "happy accidents" Bob Ross always talked about in his videos.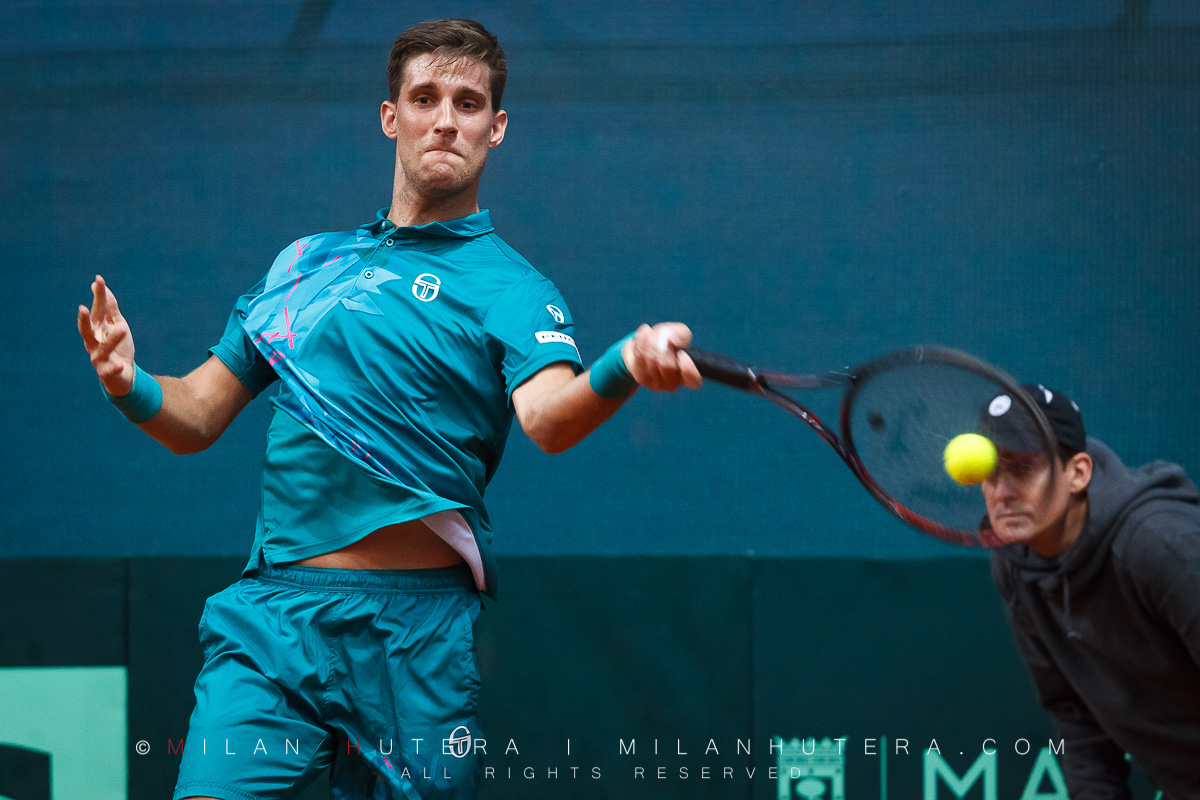 Towards the end of the month, I was visiting my friends in Trnava and went to explore the evening town afterwards. After I took some photos, I packed my gear and got ready to leave, as the blue hour was over. But as I passed the narrow street leading to the Church of Saint Nicolas, I saw a huge Moon rising next to one of its towers. So I unpacked my gear again and took a photo. Later I learned that this was called a "Super Snow Moon". This will serve as a substitute for March photo, since I did not have any time what so ever to take personal photos that month.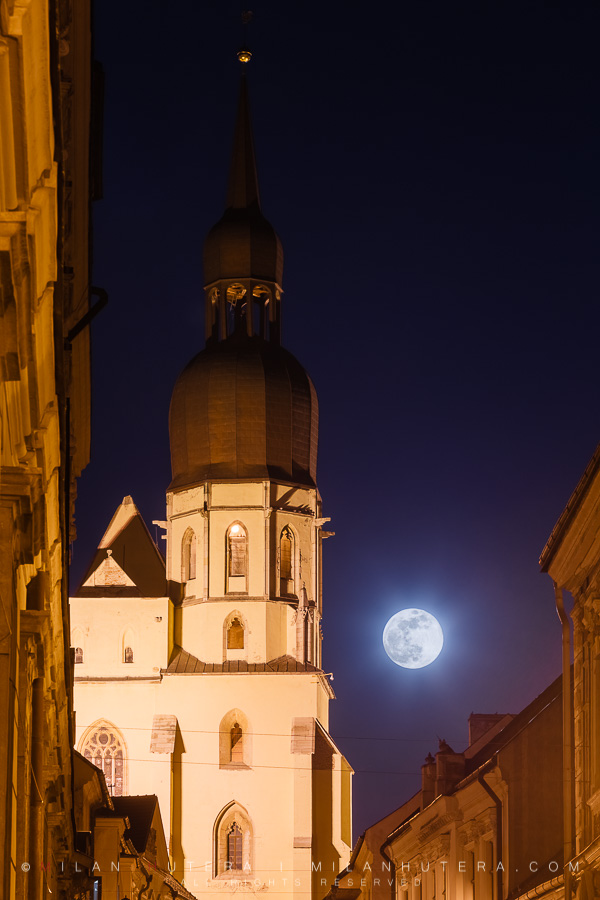 In April, I shot a Fed Cup tie between Slovakia and Brazil, which was a farewell tie for Dominika Cibulkova. It wasn't clear until later in the year, that it was also one of her last matches. In May, she played her last match at Roland Garros and in Fall she announced her retirement from professional tennis.
I always try to capture shots from different perspective. If you take your time and spend some time tucked away in the dark corner and away from most photographers, there is a good chance you will get them. Like this "to be or not to be" shot of Team Brazil's leader Beatriz Haddad Maia.
I also spent most of the month shooting a long term local project. I'm not ready to reveal its nature yet, but from the material (both still and video) I got in April I feel it will be possible to realize my initial vision. We're still several years away from it though.
April also brought a welcome personal change. After six years of "suffering" and "torture", I finally had my dental braces removed. It was a very long journey and since it was more or less a medical necessity, I had to do it. But it's nice to be finally free and have a bit nicer teeth as well.
At the end of May, we took a three day business trip to Prague. I tried to spend as much time shooting as possible between the business commitments. Sadly, there wasn't any hotel free for a group of 20 people closer than 40 minutes walk from the historic landmarks. In recent years, Prague has been overrun by tourists. Some stats say the annual number of domestic and foreign visitors is approaching 8 million and it shows. The people are everywhere and the hotels are full. So I spent A LOT of time walking during this trip.
I spent the first evening near Saint Vitus Cathedral inside the Prague castle. The castle has a long opening hours during the summer months and there are only a handful of people there compared to day hours. Highly recommended if you want to get nice photos with hardly any people.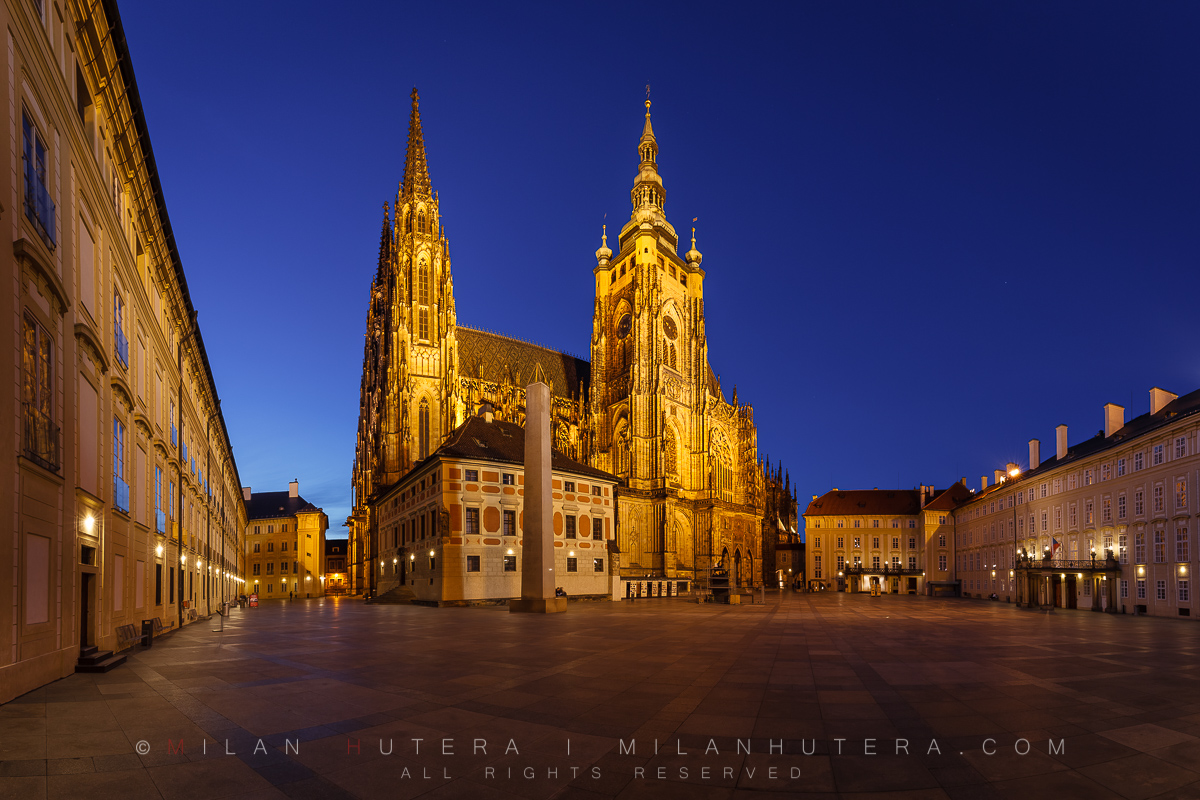 On second day, I got lucky. My plan was to stop at the House of Black Madonna to shoot the famous Lightbulb Staircase. But as we were leaving the conference (later than planned), we got stuck in a traffic jam for good hour and half. All of us then walked for 45 minutes to Old town to have dinner and we were passing the House long after its supposed closing hours. After dinner, I headed to Old town again and decided to stop by the House. To my surprise, it was opened for some evening presentation. So I got my photo after all.
In June, I tried to take advantage of long days and chase storms after long work hours. I was only partially successful. One of my more successful attempts brought me to a patch of land close to our village. It has been mentioned in a chronicle as an ancient land and a war was fought on it. I've been visiting it for years, but it didn't occur me to shoot it from this angle until now. One of the basic rules of landscape photography is to be familiar with the places within walking distance from your home. They might be mundane, but they still can bring you a nice photo.
In July I made a decision to upgrade my main camera. After 7 years of service, my aging Canon 1D Mark IV was upgraded to Canon 5D Mark IV. And what a frustrating experience it has been ever since. I can fully confirm the well known truth – "Once you go 1-series, you can't go back." Yes, the 5D Mark IV produces nicer and larger files. But what are the good files for, if the camera struggles with Autofocus and isn't as responsive as the top of the line camera introduced in 2009 (5D Mark IV was introduced in 2016). I chose two days at X-Bionic Summer Tour as the opportunity to get to know the camera. First time I was extremely disappointed. After tweaking the autofocus, the second day was more successful. The camera is definitely capable of producing excellent in-focus photos. But in lots of cases, it produces series of completely out of focus photos that are simply baffling to me. One of my favorite photos from the event was taken after the first CAI2*-H4 Combined carriage Marthon in Slovakia.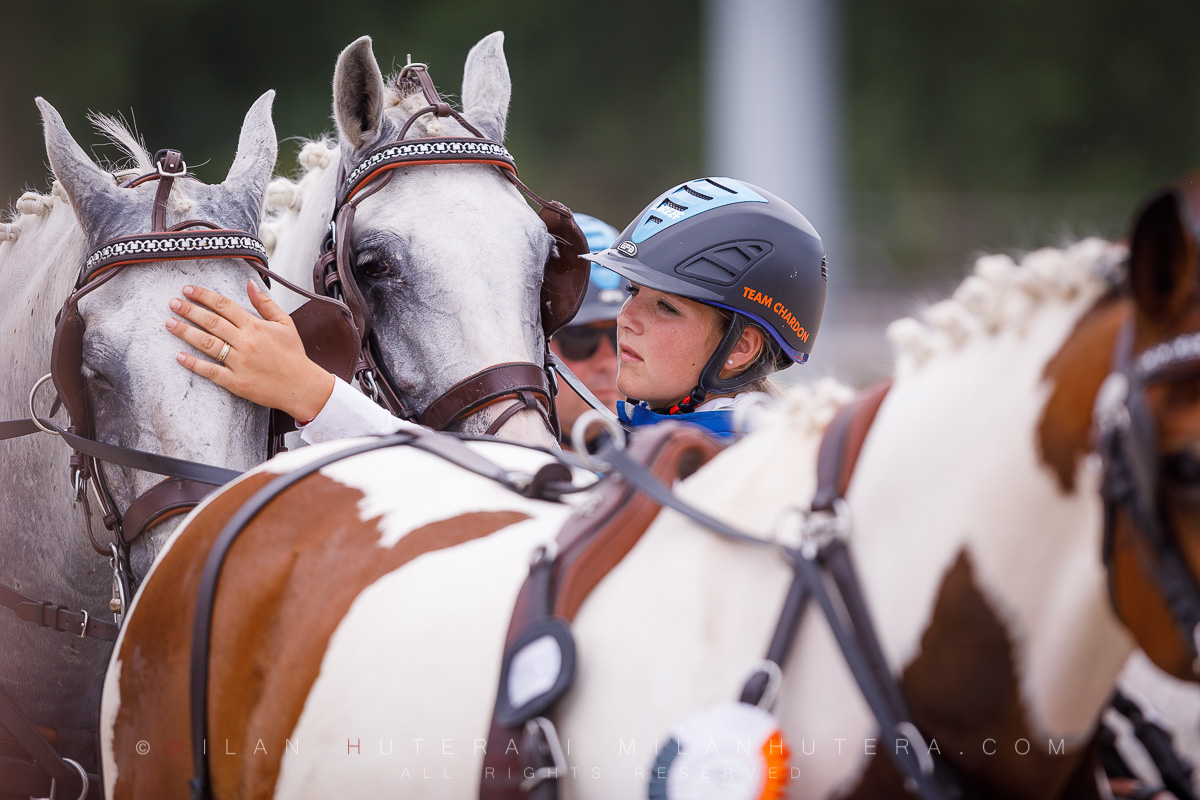 At the end of July and August I shot two Europa League 2019/2020 matches in Dunajska Streda and Bratislava for a foreign agency. This came as a complete surprise, since I don't specialize in shooting football/soccer and doing agency work (delivering files ASAP and not having enough time to provide properly processed photos). Shooting visitor team also means less opportunities to capture the action, since they mostly concentrate on defending on the other side of the pitch. After the stressful evening hours, I'm quite pleased how I handled the matches. Especially the second one between Slovan Bratislava and PAOK FC Thessaloniki provided quite a lot of interesting moments – including scantily clad pitch invader. I will provide the shot below the "injury photo" with a mild NSFW warning. Overall, I think it was a nice new experience. However, at the time of writing this blog, I'm still not prepared to call it a 100% success until all aspect of it are resolved.
The photo of a pitch invader was quite in demand afterwards, since I was one of the handful domestic photographers, who got the shot (since almost every other domestic photographer was on the other side of the pitch.). Again, the photo can be considered mildly NSFW.
September was also a very busy month for me, not having nearly enough time for personal projects (and if I did, the weather just wouldn't cooperate). Again, the photo I'm most happy with was created within walking distance from home. One of the fields was flooded by a torrential downpour. After the water dried, it left a large area of deep brown mud. I always wanted a nice detail photo of dried mud with deep cracks, but I didn't have an opportunity to shoot one until now. All I had to do was wait for the right light. It took me three attempts, but I finally got the look I wanted. The Sun dipped below the horizon and thanks to the cloudless sky I got an amazing purple glow.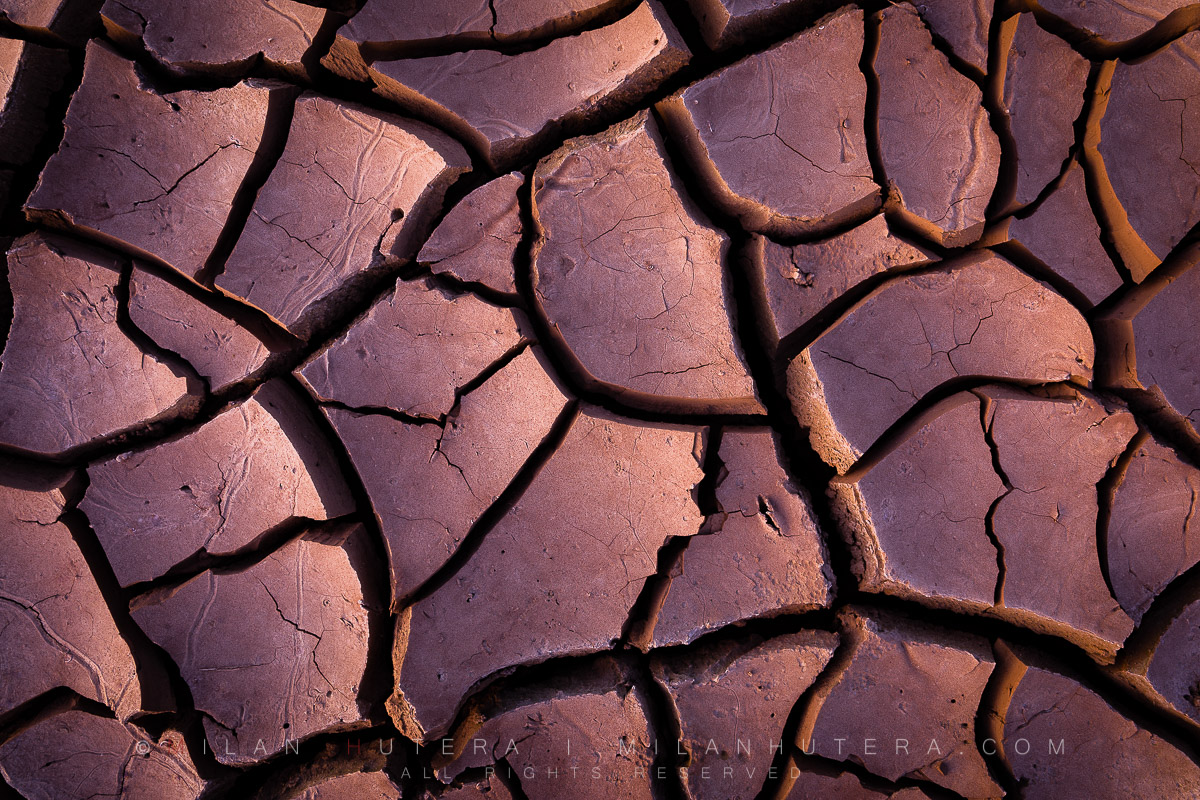 I may be repeating myself, but October was also extremely busy month. This time, I also got the time to squeeze some personal shooting between the work and paid shoots. At the beginning of the month, I visited Trnava once again. My goal was to try the new camera and see how it will handle some scenes that are challenging to capture. The narrow street, leading to Church of Saint Nicolas isn't particularly challenging to frame. But the new camera produces significantly nicer files with more dynamic range and tonality. An HDR file was still required to maintain details around lanterns and to get the highest possible quality, but the result is well worth the "effort". And the HDR workflow has one additional benefit. In most cases, it removes unwanted people from the frames, even though the street was surprisingly quiet that evening.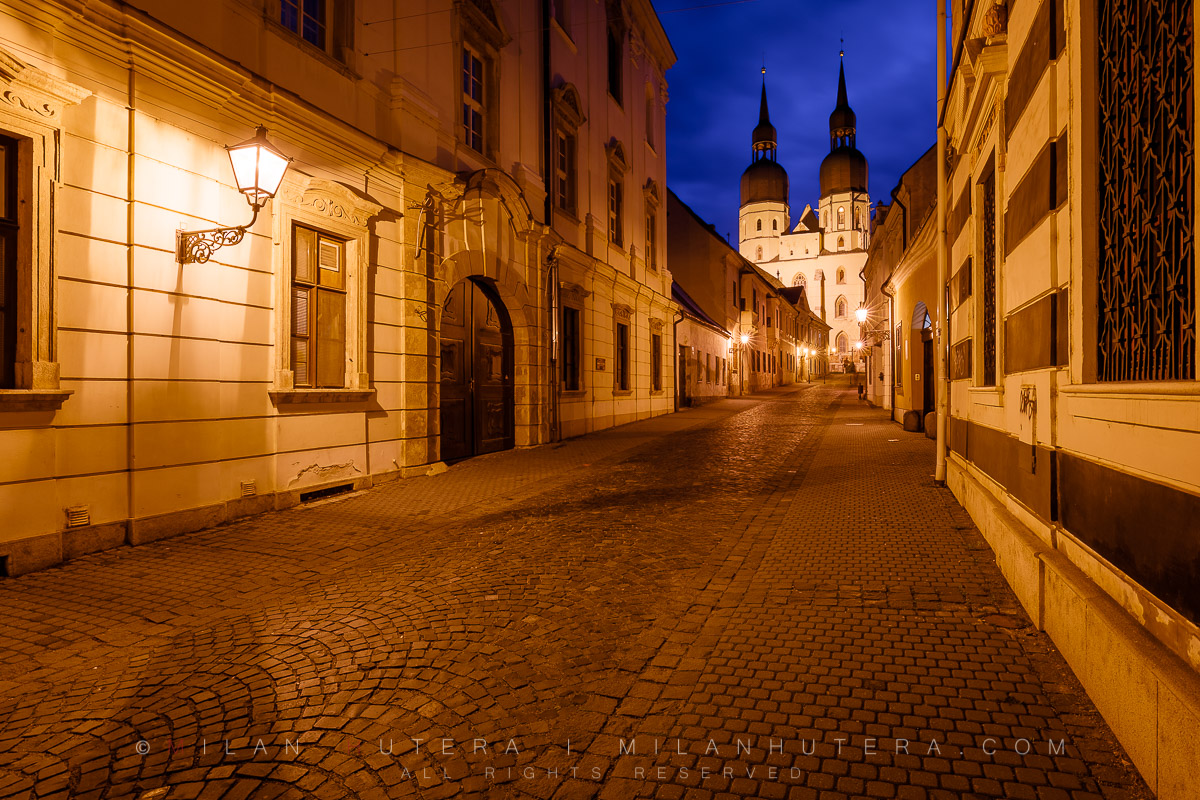 Two weeks later, I took the free time between two whole day shoots to visit Banska Stiavnica again. I expected there will be some fall colors and I knew my schedule will be very busy, so I made the trip. For half a day, the weather was miserable. I used the time for some exploring and found this overlook of the old town. As the weather started to improve, I walked back there to witness the beautiful colors all around the town.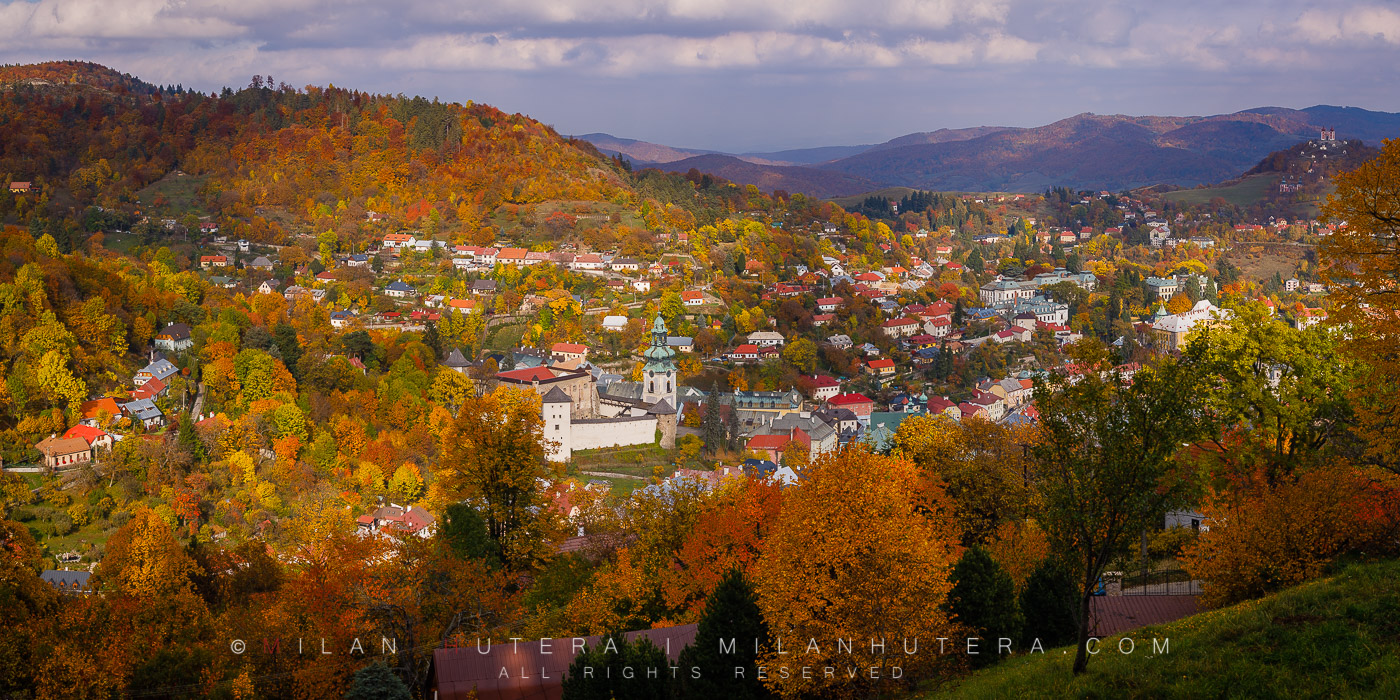 At the beginning of November, I had a paid shoot near the town Bojnice. It has probably the nicest castle in Slovakia and last time I visited was in 2008. Luckily, the shoot wasn't a whole day affair, so I made a short drive there afterwards to shoot the castle during the blue hour. Unfortunately, the lighting of the castle and around the castle was so bad, the photo required exposures several minutes long. Worse than that, I couldn't even see the composition, both in viewfinder and on Live View. So it's a little tighter than I wanted. I will be back to improve it, hopefully sooner than in 2030.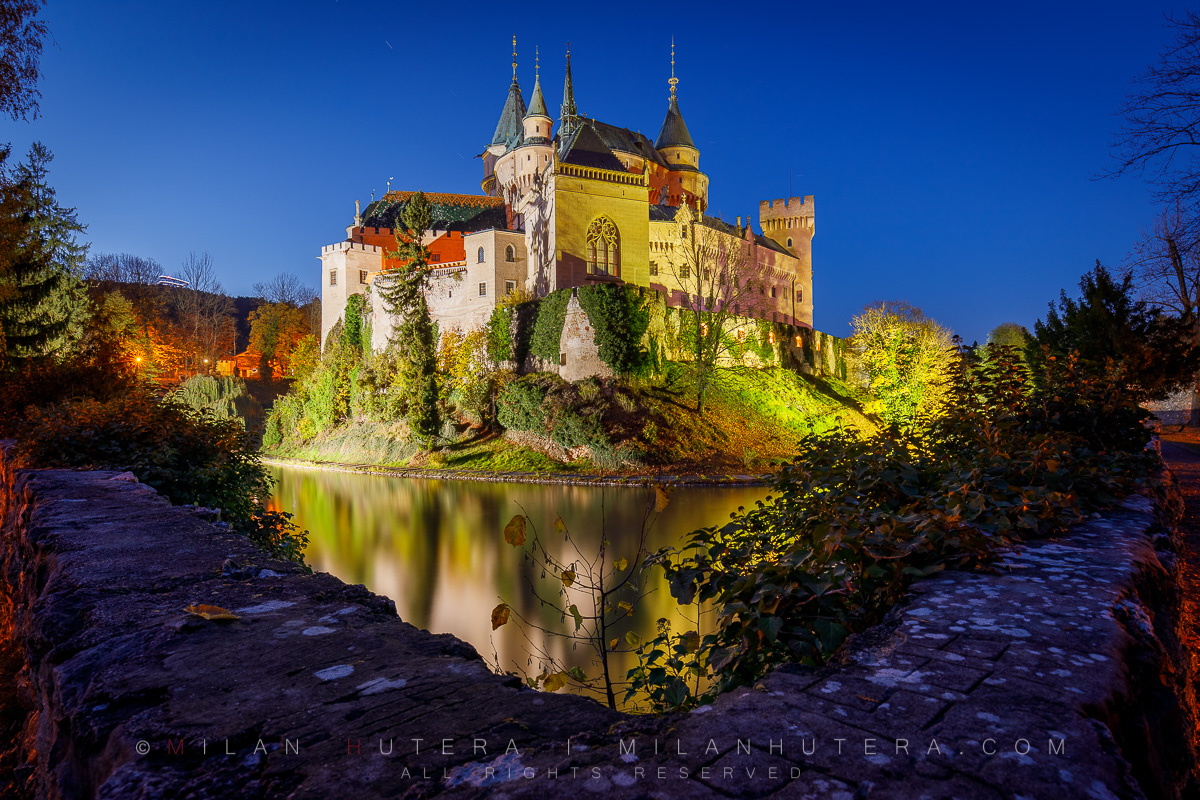 December was, once again crazy hectic, so aside from a number of paid shoots, there wasn't any time for personal projects.
And that was my year of 2019. Considering how it went, I'd rather not set any particular "grand" goals for next year in order to avoid disappointment. Was your year as bad as mine? Will 2020 be better? What are your photography plans? Let me know in the comments. Happy new year!