2015 in Pictures
Welcome to another installment of my "Best of" blog for Jim Goldstein's excellent photo blog project. But first, a following message needs to be said:
I think Jim's blog project is a great way to demostrate the diversity of our skills and approach to photography. Everybody is free to shoot what he or she likes and what makes him or her happy. I also believe most of us won't aspire to win any major awards with the submitted photos. However, there are some people, who browse these "Best of" blog posts and expect to find unique, never-before-seen, life-altering photos in each of these blogs. Then they ramble endlessly on their blogs about how most of the presented photos are unoriginal, boring and forgetable. If you are one of those people, let me save you some time. Yes, this blog contains unoriginal, boring and forgetable photos you've probably seen a thousand times before. Please close the tab in your browser and move along.
If I had to summarize the year of 2015, I'd say "Incredibly intensive" and "The year of change". Honestly, I cannot remember a more photographically intensive year than 2015. But most of my photo endeavors weren't dedicated to my personal landscape projects and were focused on reportage/editorial content. And since this is the "Year of change", I decided to do this blog differently. Rather than struggling with few landscape photos, I decided to go month-by month and present my key work from that particular month.
Another big change and big project for me is the update of my website. In November, I began to migrate my old website to a more modern theme in order to give it a bit nicer look and some new functions. I decided to split my photos into two parts – Portfolios and Galleries. In portfolios, you can find my best photos from the respective category. Currently the available portfolios are Landscapes and Sports. I'm hoping to add a Travel portfolio early next year. In Galleries section, you'll find larger number of photos from trips, events or sporting events I attended. I also decided to reprocess many of my photos, because I feel they could look a lot better with my present post-processing skills. Most of the changes are subtle, but it's important for me. This is obviously another large project, but I'm happy to say most of the photos on my website have been already updated.
At the beginning of January I went to see and photograph the world-famous Tutankhamun exhibition, that was held in Bratislava. As a fan of Ancient Egypt, I really enjoyed this great exhibition about the most famous Pharaoh. The presented setpieces are top class reproductions of the originals. The curator of this exhibiton actually said it's more enjoyable this way, because the originals are often in bad shape. If you'd like to see more photos from this exhibition, click on the Tutankhamun's visage.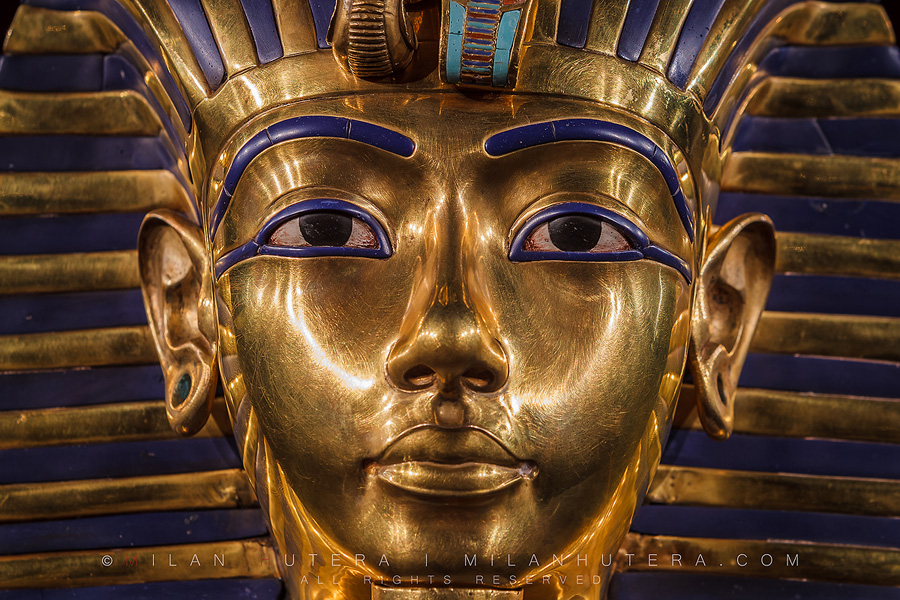 In February I was fortunate to attend the Biathlon World Cup in Nove Mesto na Morave, Czech Republic. This was probably the biggest event of the biathlon world in 2014/2015 season, mainly because of recent successes of Czech biathletes. Over the course of four days the races attracted about 100 000 visitors. Biathlon is an overwhelming sport to photograph, even if you're an experienced sports shooter. It takes considerable amount of time to shoot all aspects of it and impossible to do in a single race uness you have an assistant photographer. Even though I managed to produce only a handful of photos I'm happy with, I'm really happy that I was able to be there. This photo of slightly disappointed French superstar Martin Fourcade is my favorite from that day.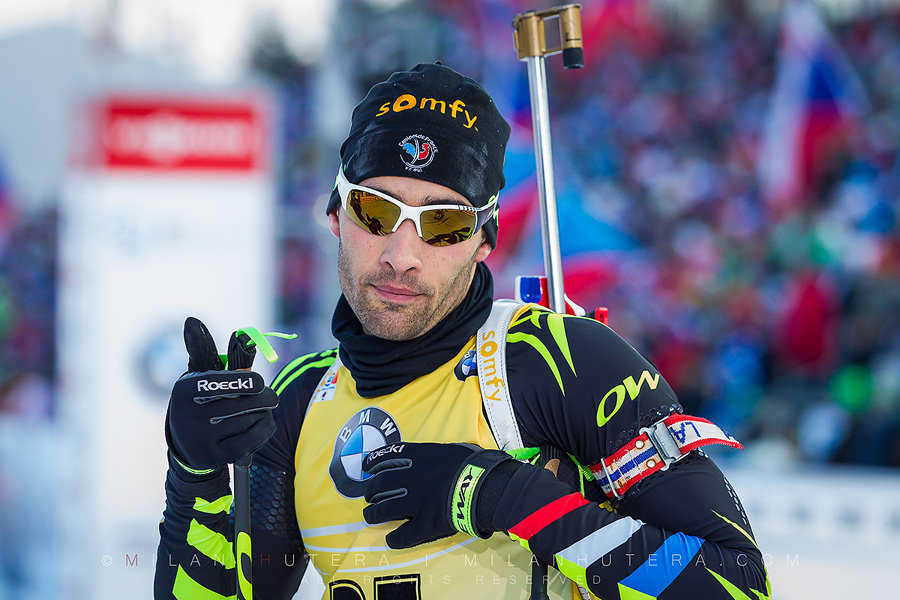 In March I visited Venice after nearly 8 years. Unfortunately, much of the shooting was disrupted by constant rain and drizzle. Nevertheless, I managed to produce a series of photos, that is perhaps a bit different than I imagined. I also managed to write a somewhat successful blog in Slovak, with roughly 6000 unique visitors. If you'd like to see the Venice 2015 gallery, click on the photo of Gondolas and Isola di San Giorgio. If you'd like you can also read the English translation of my blog here (Long form, approx. 3400 words).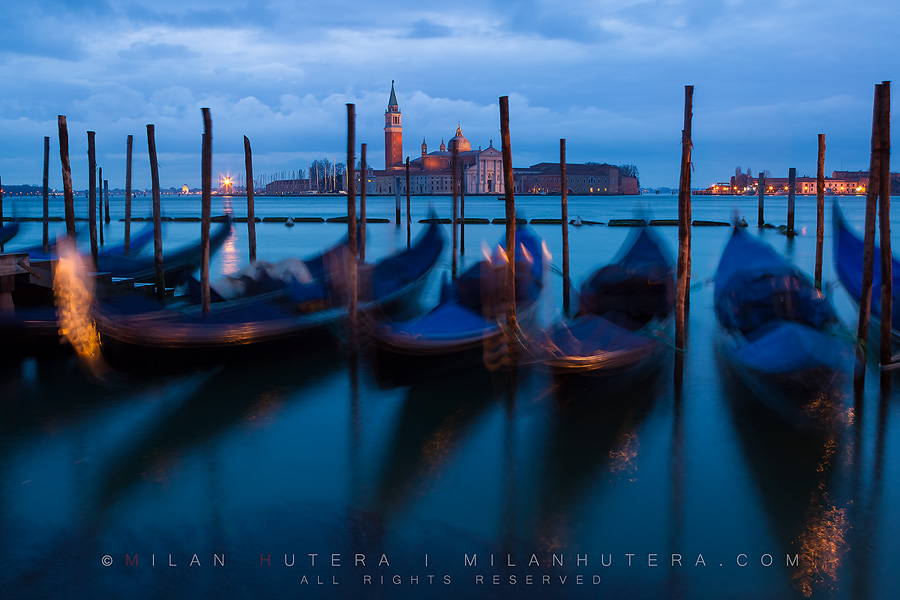 In April I photographed a Federations Cup World Group II tie between Slovakia and Sweden. Fed Cup is the World Cup of women's tennis. This victory photo depicts Anna-Karolina Schmiedlova, Daniela Hantuchova, Jana Cepelova, Team Captain Matej Liptak and Kristina Schmiedlova after they secured the necessary third point. I hope we'll make it back to World Group I in 2016. During this event, I had the chance to fully utilize the largest addition to my kit – Canon 300mm f2.8 L IS that I purchased in March. You can see the full gallery of 30 photos by clicking on the photo.
In June I managed to photograph these dead tree trunks in the bed of river Váh. It's Slovakia's longest river and has a cascade of 23 power stations. Because of ongoing maintenance on one of the power stations, the riverbed close to my home was partialy dried for several months. These trunks are usually completely submerged in water. The next maintenance will take place in several years. The sunset was quite nice that day as well.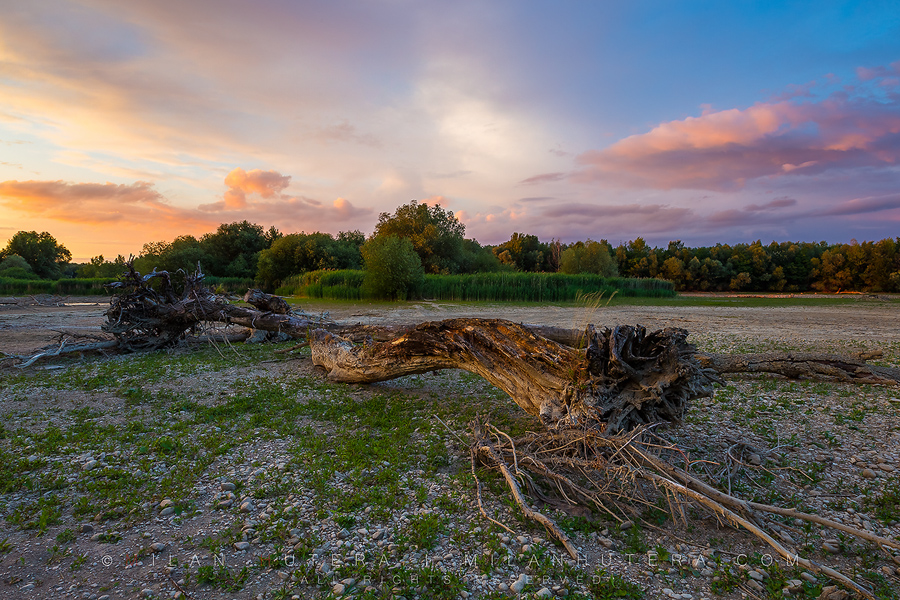 In June I also visited Prague for a short business meeting and roughly two days of shooting and exploring the city. It was my third visit to this beautiful, but crowded city. For the first time I was alone and had some time to photograph *properly* at least some of the landmarks. This evening photo of Charles' bridge, which is overrun by tourists pretty much any hour of the day, got me thinking about iconic locations a lot. I will definitely write a blog about it, once I finish the work on my new website. I uploaded several photos from Prague into a separate gallery. Sadly, it lacks daylight photos. I think the properly done daylight photo with nice clouds is not a bad thing at all. One of my new year's resolutions is to make more daylight photos. If you'd like to see more photos from Prague, click on the Charles' bridge photo.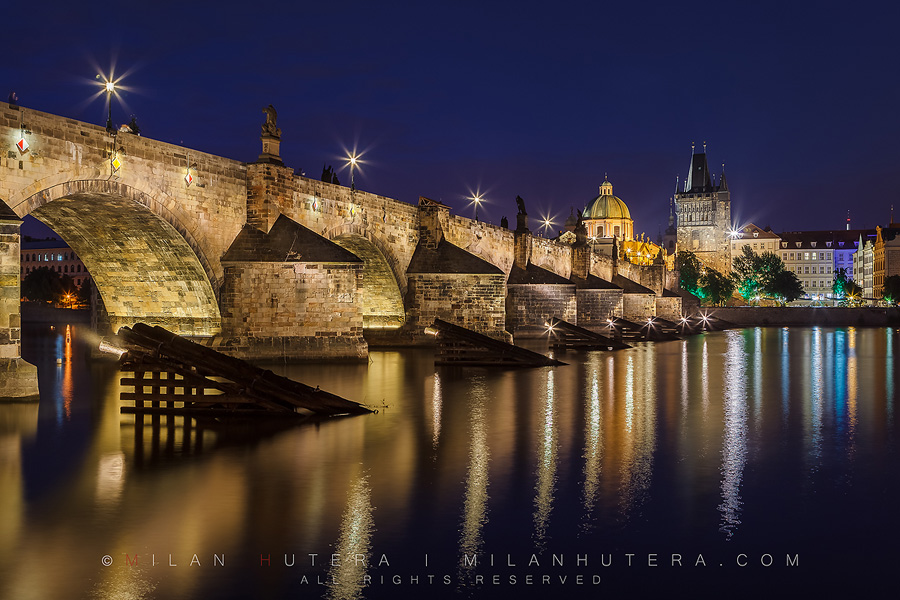 During my stay in Prague, I visited and photographed Gateway to Space – an exhibition dedicated to space exploration. It was organized by the same company that organized the Tutankhamun exhibition in Bratislava. My stay in Prague marked the last two days of the exhibition. Nevertheless, the place was packed by the space nuts and fans of space exploration. If you're interested in seeing more photos from this fine exhibition, click on the photo of the Lunar Roving Vehicle (LRV).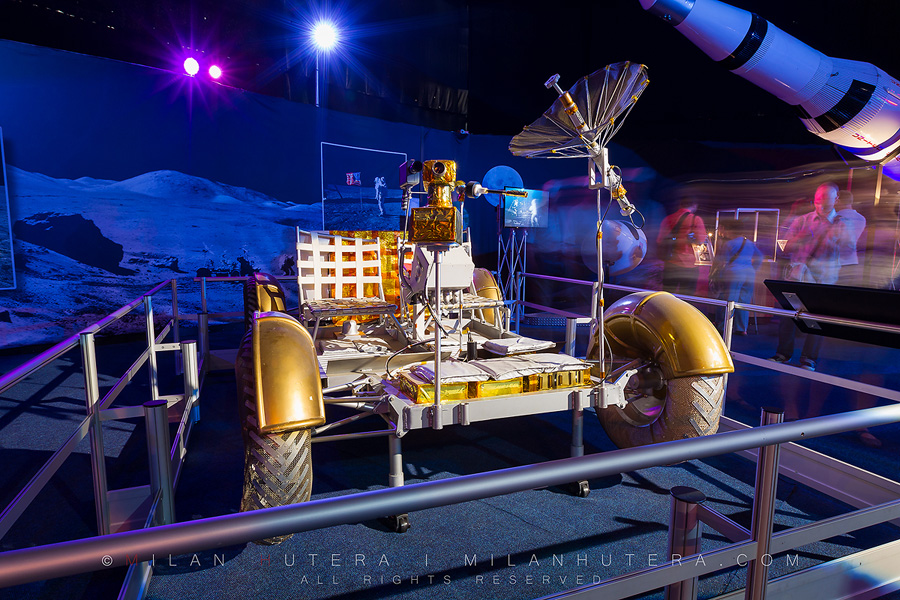 In August I attended the Summer Masters Equestrian event in Samorin. This prestigious event is held in a beautiful, newly built Hippo arena. The races were of high quality thanks to the attendance of many respectable riders and horses, both from Slovakia and from abroad. The photo that stands out for me is the photo of a rising Moon next to a beautiful Horse statue made of stainless steel plates. If you'd like to see the entire statue and some beautiful horses, click on the rising Moon photo. The link will take you to full gallery from this event.
In September I visited High Tatras National Park. This photo depicts a small waterfall on Studenovodský potok (literally "Coldwater stream). There are several smaller and larger waterfalls on this stream, located near Hrebienok. I made some other photos of the stream, but this is my favorite. I also tried some other compositions further down the stream and will work on them more during my next visit.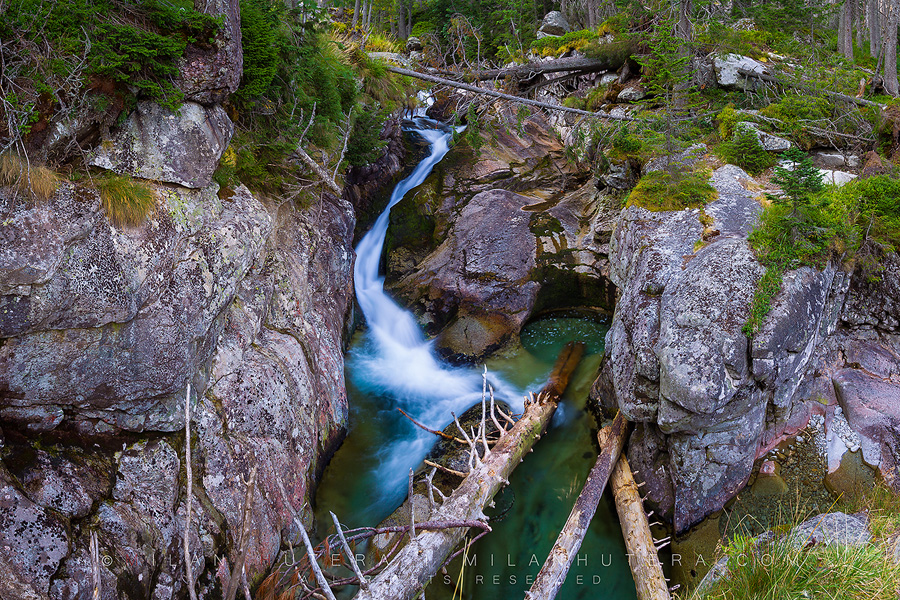 In October I made two trips to shoot Fall colors. This photo of tree trunks and branches was made in Kvacany valley near Liptovsky Mikulas. This photo depicts not only the beauty of Fall in this part of my country, but also the reason why I do the landscape photography. I try to capture not only the beautiful scenes, but also the beautiful light. The day I took this was somewhat cloudy. But for a brief moment, the Sun and the clouds created this magical soft light that brought out all the beautiful colors. Moments later, I decided to make several vertical frames for a panorama stitch. But the magical light was already gone. In landscape photography, each minute of the day can be decisive!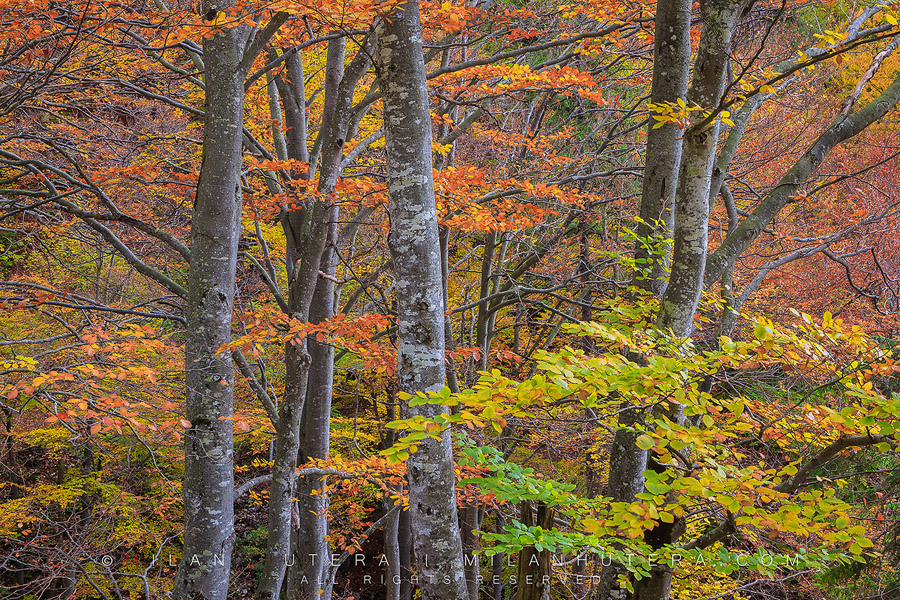 In November I made several trips to Nitra Castle, specifically to shoot this panorama of the castle courtyard. Nitra Castle is one of the most important castles of Slovak history. It was especially important during the Great Moravian Empire and was home to Duke Pribina. The castle is located on a small table-mountain above Nitra and offers some beautiful views of the city. The statue in the middle depicts the late Pope John Paul II, who visited Nitra in 1995. This photo will be a part of upcoming Travel portfolio. I went for the twilight version of the panorama, even though I have an evening photo with a lovely glow on the buildings. But there were no clouds in the sky at all, so I'm hoping to capture the place with some beautiful evening clouds next time I'm there.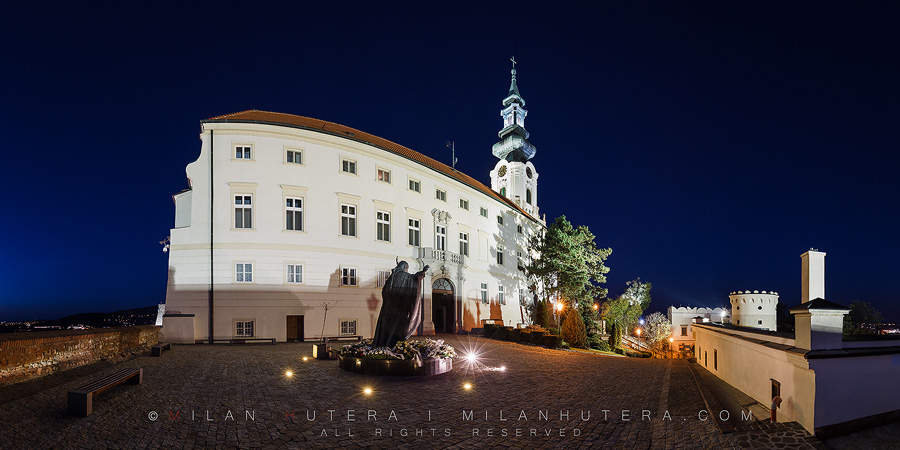 My personal project for December was the tiny romanesque church of Saint Michael the Archangel, located near Nitra. In fact, this church is visible from the courtyard of Nitra Castle. At evening, the church is lit by three rather unprofessional, boxy looking lights, that are too close to the building. I decided to include one of the lights into my composition. This rock upon which this church stands is indeed a magical, contemplative place. Especially after the crowds go away. Although these days with the construction of a nearby Land Rover factory, you're getting quite a bit of rumble during your talks to the heaven.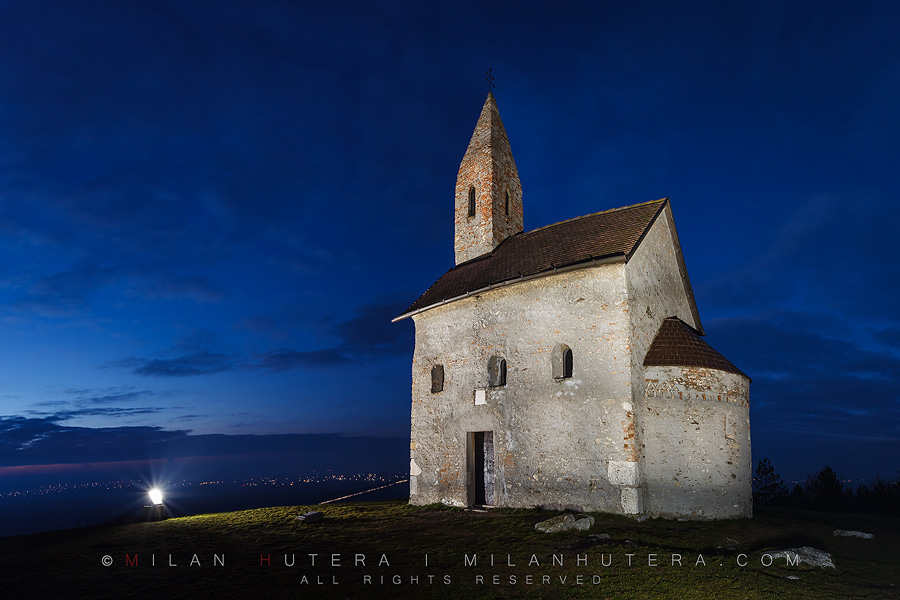 So that was my year of 2015. And what are my hopes for 2016? I already have lots of shorter trips planned. I will most probably be traveling to Italy again. And the year 2016 looks promising from the business point of view as well. Thanks for your time, I hope you enjoyed my Year-end blog. Feel free to leave a comment or connect with me on Twitter, LinkedIn or the dreadful Facebook.