It's that time of the year again and I'm once again contemplating my best photos of the year for Jim Goldstein's "Best of" project. When I first went through the photos I took in 2014 I thought "It's getting harder and harder every year." The troubles of ordinary life finally caught up with me. During my studies at the University, I had quite a lot of free time and was able to shoot quite a lot, even during the business hours. When I began my doctoral studies and was inducted into our family business, the free time for shooting nature and landscapes was suddenly a rare comodity. And now, when I'm fully involved in our family business and have a side-project on my own, I find that I have very little time for the landscape photography that relaxes and stimulates me. This year I'll be presenting only a handful of photos I shot during the year and I'll try to explain why I chose them.
My top photos of 2014
I took the photo titled "Canola Star" on a very cold and windy April evening just outside the village where I live. It was one of my first real landscape attempts with the Canon 16-35 f2,8 L II lens I purchased at the begining of the year. This lens is famous for its great rendidion of Sunstars. A small opening in the heavy clouds appeared at the perfect moment and I was able to photograph the Sun just before it disappeared behind the horizon.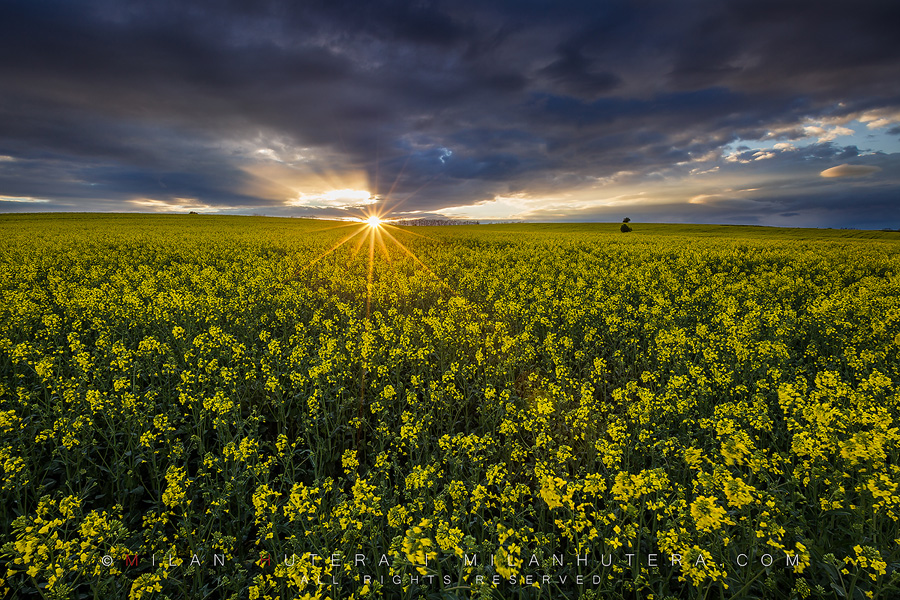 Another spring-time photo is titled "The Stars are Blooming". I took it at the end of March on a dusty road close to my home. I took almost identical photo last year, but the tree was completely leafless. Once again, I waited for the cloudless and moonless evening and when I arrived to the familiar place, I noticed that the cherry tree was already blooming. I also wanted to capture more of that amazing purple sky, so I once again used the Canon 16-35 II. My small but very powerful LED flashlight provided the intensive light during the long exposure. I think the lighting came out a bit too strong this time, particularly on the grass at the base of the tree. But I already have the same scene lit in a more "mellow" way, so I think the more powerful light suits the whole idea of "spring awakening" more.
The photo titled "Waterfall and Ladder" was taken in one of the most beautiful spots in Slovakia – the Kvacany valley. I stopped there on my way to a photo shoot at the begining of October. Unfortunately I only had a couple of hours to walk through and photograph the beautiful Autumn colors and to get to this small waterfal, which I haven't visited for five years. When I got there I noticed it hadn't changed a bit since my last visit. I think I could've positioned myself even lower and even closer to the water to get a bit more dramatic perspective, but at least I have a reason to go back there as soon as possible.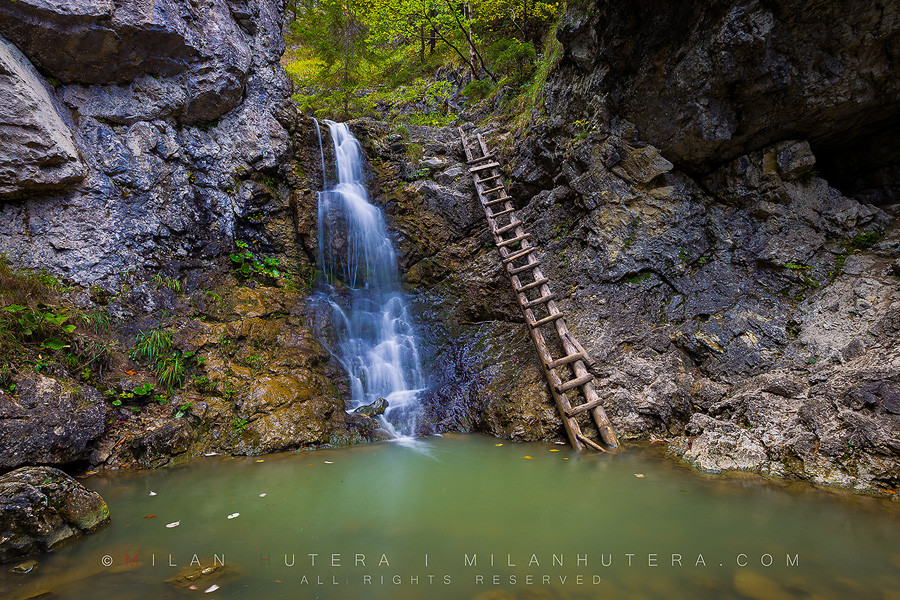 My most popular photo of the year is called "A Clash of Fronts". I took it in June, which is probably my favorite time of the year because of the stormy weather. And I just love the fields full of wheat. On this day, I originally went to a different location, but quickly decided to move to a spot I know very well. I spent several hours there, waiting for the perfect light and I must say it did. I was totally amazed by the contrast between the warm orange clouds coming in from the West and the dark blue clouds coming from the East. The beautiful warm light was also present on the wheat field. I decided to upload this photo to my 500px account. To my surprise, it recorded more than 4 000 views and lots of votes (my photos usually record less than a 100 views and only handful of votes and comments).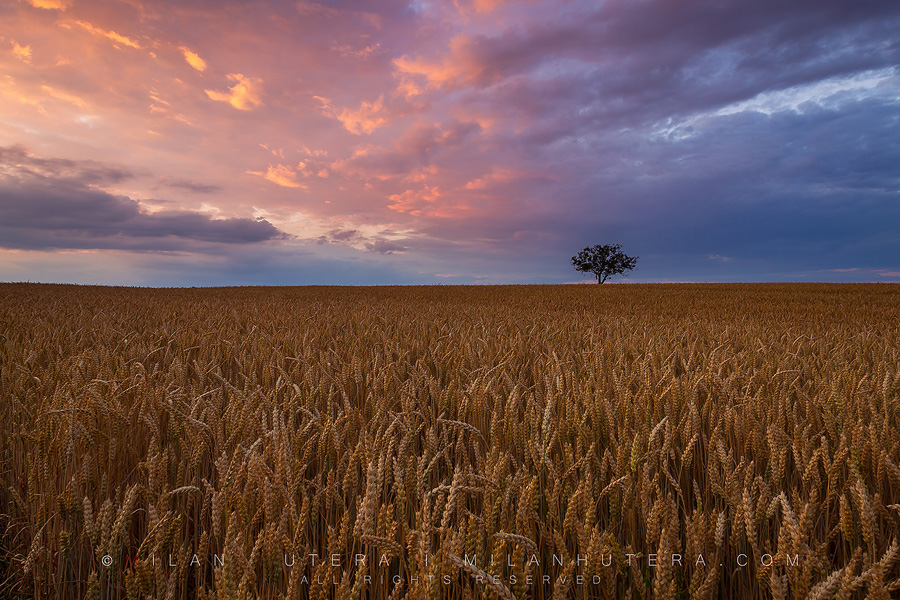 I took the photo titled "The Peak of Fall" on the same day I took the "Waterfall and Ladder". To be honest, I think the real peak of the fall in Kvacany valley came a few days earlier, because the leaves already started coloring themselves into brown tones instead of red. It was also very windy that day (it's visible in the top right corner of the photo). However, I'm very happy with this busy forest compositon and it motivates me to go back next October and spend more than a handful of hours in this beautiful place. During my brief stay in Kvacany valley, I also experienced this classic "pro photographer" tale – Me with my big professional camera on a tripod and a large group of German tourists, who stopped next to me and started taking pictures of the place with their cellphones and compact cameras. I was photographying the forest with my pro gear, so it must be something special :).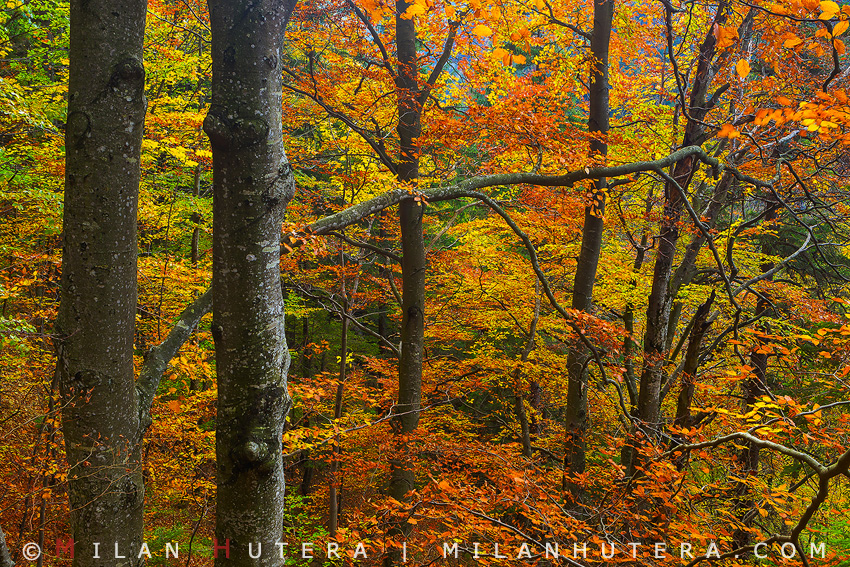 My last "top photo of 2014" is called "When the Wind Reigns". I took this photo the next day after my very successful outing that produced "A Clash of Fronts". I decided to explore the new location about 20 kilometers from my home. When I arrived to the location, I discovered a large wheat field with some rolling hills. Once again, the weather was very windy and created some amazing evening light and clouds. I also have a vertical composition of this scene in my archive, that shows the movement of the wheat more. But I just love the expansive view of the horizontal oriented photo and the beautiful cloudy sky.
These are purely landscape photos I consider my best of the year. However, I took more photos that are either travel oriented or they are landscape photos, that showcase my vision but somehow they "aren't there, yet". Nevertheless, I decided to present them in "honorable mentions" section.
Honorable mentions
At the end of May, I spent a few days travelling through Slovenia with Rob Tilley. I fist met Rob in person the year before in Moravia. At the begining of 2014, Rob contacted me again and asked if I wanted to join him for a few days during his travels through Slovenia and Croatia. I even invited my "non photographer" friend to join us on this Photo trip. I think we successfully inducted him into the photography world and showed him a different side of traveling. During our brief stay we visited the city of Bled and it's beautiful lake, Triglav National Park, the ancient city of Ptuj, Maribor and we ended up in the beautiful port city of Piran. During our exploration of Triglav, we briefly met Slovenian photographer Luka Esenko, who was leading a photo workshop in the Vintgar Gorge. I wrote an extensive blog containing 40 photographs from our trip on my blog in Slovak language. I even promised Rob to translate it into English and post in here on my website, but I just haven't gotten around to do it yet. However, the photos can be enjoyed regardless of the language, so if you're interested in seeing them, you can see them on my blog in Slovak language.
This photo displays the beautiful main square of Piran. It was taken on our last morning in Slovenia, just before 5 AM. The time is even visible on the church tower. The city of Piran looks a lot like Venice, except it has no canals. It was a shame we didn't stay longer, because this city is definitely worth exploring. But in my case, it's "only" 600 kilometers away, so it's not that difficult for me to go back there. All I need is time and some budget for traveling…
I took the photo titled "Cosmic Whirlwind" in June. This massive dead tree is located on the edge of a forest about 15 kilometers from my home. Unfortunately, due to the busy surroundings, I can only include the top portion of the tree in the photo. I visited this location earlier during almost full Moon night and the quality of the light was amazing. However I did not do a long exposure that time. Couple of days later, I returned to do a hour-long exposure and I hoped that the Moon will once again provide the interesting light. Sadly, the Moonrise didn't happen until Midnight, so I had to use the flashlight to subtly illuminate the tree. I even hoped some small clouds would appear to add some dramatic streaks, but they didn't happen either. I still think this photo is worth presenting and I'll be visiting this location until the photo fully matches my vision.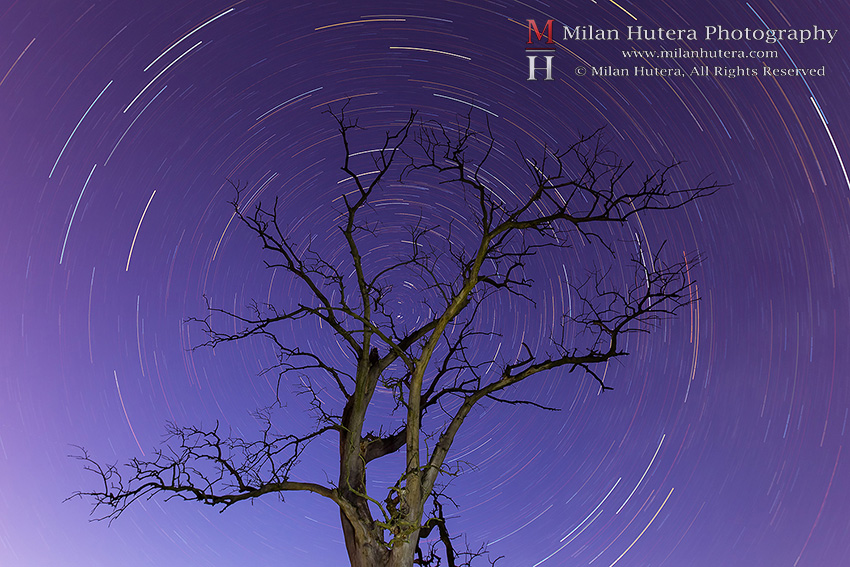 We visited High Tatras couple of days before Christmas. We stayed at Strbske pleso, which is a beautiful alpine lake, but it's covered with hotels, pathways and a sky jumping bridge. I discovered a nice view of this trio of moutains called "The Crown of High Tatras" several years ago and I try to photograph them whenever we are around. Unfortunately, the weather almost never co-operates during our stay in High Tatras. I call it "My curse of High Tatras". We were staying in one of the hotels right next to the lake, so I was looking forward to photograph the mountains in morning light. During my outing, I got several nice "pre dawn" and morning photos. This photo shows the beautiful morning light on the trees in front of the mountains, but only the very highest peaks are illuminated… So I think my "Curse of High Tatras" has not been dispelled yet…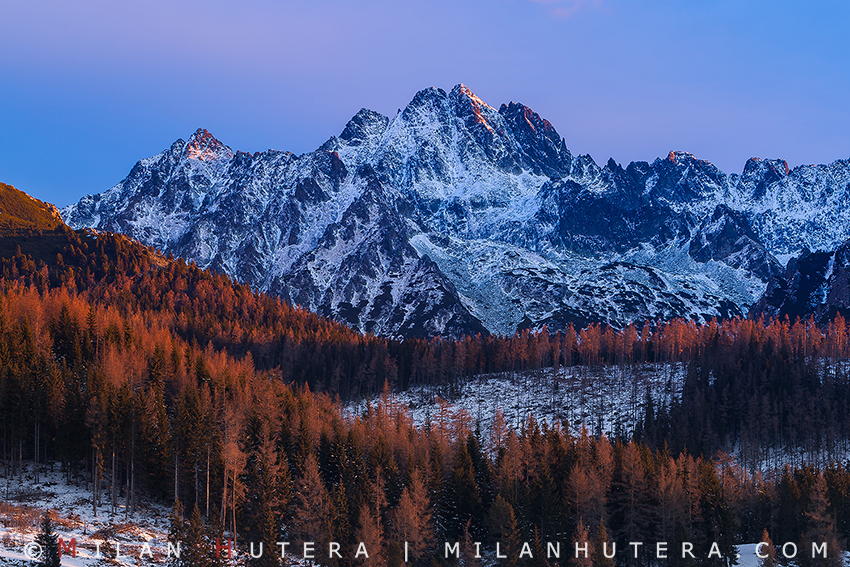 The "other stuff"
As some of you know, I'm also a sports photographer. I even present some of my tennis photos here, but for the lack of time I didn't update my "Sports section" in a while. So if you're interested in seeing my sports photos, I'll redirect you to the galleries of Tennis Arena Magazine. This year I did quite a lot of shooting that included a Fed Cup Tie between Slovakia and Germany, Davis Cup tie between Slovakia and Austria, Davis Cup between Slovakia and Latvia, some editorial stuff (The Fashion line of Dominika Cibulkova, The Wimbledon-grade grass court in Bratislava), the Tennis Champions exhibition that featured tennis stars John McEnroe and Ivan Lendl, the annual ITF tennis tournaments in Trnava and Bratislava and the Tennis player of the year Ceremony. I also began shooting some architecture assignments and I hope I'll be doing more of them in 2015.
I wish everyone Happy and productive Year of 2015! I hope I'll be able to do more landscape photography and more traveling and I hope I'll be able to share more photos in "My top photos of 2015".